‍Rocks, ‍rocks, ‍and ‍more ‍rocks, ‍each ‍with ‍its ‍own ‍special ‍design. ‍One ‍look ‍at ‍these ‍pictures ‍and ‍you ‍will ‍probably ‍say ‍to ‍yourself; ‍I ‍think ‍I ‍know ‍where ‍I ‍am. ‍Are ‍you ‍really ‍sure?
‍

‍It ‍was ‍late ‍in ‍the ‍afternoon ‍as ‍we ‍were ‍driving ‍trying ‍to ‍find ‍a ‍place ‍to ‍spend ‍the ‍night. ‍Since ‍we ‍just ‍"regrouped" ‍the ‍night ‍before ‍at ‍a ‍trailer ‍park ‍(that ‍is, ‍showers, ‍laundry ‍and ‍dumping ‍holding ‍tanks) ‍we ‍were ‍looking ‍for ‍a ‍spot ‍without ‍hookups. ‍We ‍wanted ‍to ‍find ‍something ‍scenic ‍and ‍off ‍the ‍highway. ‍As ‍we ‍drove ‍down ‍the ‍road, ‍we ‍saw ‍a ‍sign, ‍and ‍said, ‍"let's ‍go ‍there ‍for ‍the ‍night." ‍Can ‍you ‍guess ‍where ‍we ‍are? ‍
‍

‍We ‍are ‍at ‍a ‍place ‍called ‍Three ‍Rivers ‍Petroglyph. ‍It ‍is ‍found ‍in ‍New ‍Mexico ‍between ‍Carrizozo ‍and ‍Alamogordo ‍on ‍State ‍Highway ‍54. ‍If ‍you ‍go ‍30 ‍miles ‍north ‍from ‍Alamogordo ‍you ‍will ‍see ‍a ‍turn ‍off ‍to ‍the ‍right ‍called ‍Three ‍Rivers, ‍and ‍you ‍will ‍turn ‍on ‍County ‍Road ‍B ‍30, ‍this ‍is ‍a ‍well-paved ‍road ‍that ‍will ‍take ‍you ‍5 ‍miles ‍to ‍the ‍National ‍Recreational ‍Site.
‍

‍Before ‍we ‍entered ‍the ‍road ‍to ‍the ‍Petroglyph's, ‍we ‍stopped ‍at ‍the ‍Three ‍Rivers ‍Trading ‍Post ‍and ‍went ‍in ‍to ‍see ‍all ‍the ‍unusual ‍souvenirs ‍and ‍gifts. ‍This ‍is ‍a ‍very ‍unique ‍place ‍and ‍well ‍worth ‍a ‍stop ‍to ‍see ‍all ‍the ‍different ‍items ‍that ‍they ‍have ‍to ‍sell.
‍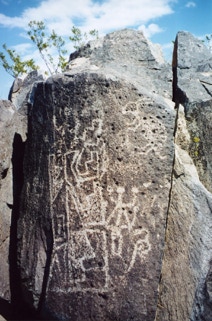 ‍We ‍drove ‍into ‍the ‍area ‍and ‍were ‍surprised ‍to ‍see ‍that ‍they ‍had ‍two ‍RV ‍spaces ‍with ‍water ‍and ‍electric. ‍The ‍two ‍sites ‍were ‍recently ‍built ‍and ‍will ‍accommodate ‍large ‍RV's. ‍The ‍length ‍of ‍the ‍sites ‍is ‍over ‍100 ‍feet ‍long ‍and ‍level.
‍

‍Each ‍site ‍has ‍a ‍picnic ‍table ‍on ‍a ‍concrete ‍slab, ‍a ‍sunshade ‍cover, ‍and ‍a ‍BBQ. ‍We ‍were ‍glad ‍to ‍find ‍out ‍that ‍they ‍did ‍have ‍electricity ‍available ‍since ‍we ‍just ‍bought ‍a ‍new ‍battery ‍for ‍the ‍camper ‍and ‍needed ‍to ‍charge ‍it ‍back ‍up ‍using ‍our ‍Heart ‍Interface ‍1000 ‍watt ‍inverter.
‍

‍Since ‍this ‍is ‍managed ‍by ‍the ‍BLM, ‍your ‍Golden ‍Age ‍or ‍Access ‍passport ‍will ‍give ‍you ‍half ‍price ‍off ‍the ‍campground ‍fee.
‍

‍The ‍fee ‍is ‍$10.00 ‍a ‍night ‍without ‍the ‍Golden ‍Age ‍card ‍and ‍$3.00 ‍if ‍you ‍want ‍to ‍enter ‍the ‍Petroglyph ‍site ‍for ‍the ‍day.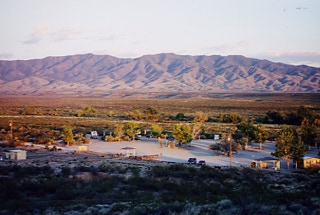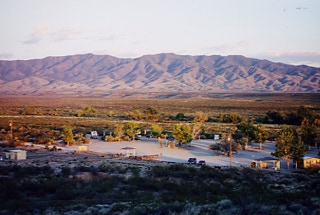 ‍We ‍parked ‍the ‍camper ‍and ‍grabbed ‍our ‍camera, ‍and ‍away ‍we ‍went ‍for ‍an ‍evening ‍hike ‍to ‍photograph ‍the ‍rocks. ‍We ‍bought ‍a ‍trail ‍guide ‍map ‍and ‍hiked ‍up ‍the ‍rugged ‍1/2 ‍mile ‍trail ‍(1 ‍mile ‍round ‍trip) ‍to ‍the ‍various ‍rock ‍carvings, ‍or ‍rock ‍art ‍as ‍they ‍call ‍it. ‍As ‍we ‍hiked ‍along ‍the ‍trail, ‍we ‍found ‍many ‍round ‍faced ‍images. ‍These ‍images ‍or ‍masks ‍are ‍used ‍by ‍many ‍cultures ‍in ‍their ‍religious ‍ceremonies ‍to ‍depict ‍supernatural ‍beings. ‍The ‍Jornada ‍Mogollon ‍masks ‍are ‍similar ‍to ‍Pueblo ‍kachina ‍masks ‍but ‍are ‍usually ‍round ‍with ‍almond-shaped ‍eyes ‍and ‍triangular ‍noses. ‍
‍The ‍Three ‍Rivers ‍site ‍has ‍over ‍21,000 ‍rock ‍art ‍carvings, ‍making ‍this ‍one ‍of ‍the ‍largest ‍concentration ‍of ‍Petroglyph's ‍in ‍the ‍Southwest. ‍We ‍were ‍amazed ‍too ‍fine ‍such ‍a ‍good ‍display ‍and ‍preserved ‍so ‍well ‍after ‍all ‍these ‍years. ‍
‍The ‍Jornada ‍Mogollon ‍people ‍occupied ‍this ‍area ‍over ‍10,000 ‍years ‍ago, ‍first ‍hunting ‍the ‍large ‍mammoth ‍and ‍bison, ‍then ‍as ‍these ‍animals ‍became ‍extinct ‍the ‍people ‍turned ‍to ‍farming ‍by ‍growing ‍corn, ‍beans ‍and ‍squash. ‍
‍They ‍also ‍continued ‍to ‍hunt ‍for ‍the ‍smaller ‍game ‍animals. ‍Archeologists ‍believe ‍that ‍the ‍prehistoric ‍inhabitants ‍of ‍southwest ‍New ‍Mexico, ‍southeast ‍Arizona, ‍and ‍northern ‍Chihuahua, ‍Mexico ‍as ‍the ‍Mogollon. ‍There ‍were ‍two ‍groups ‍of ‍people, ‍those ‍living ‍in ‍the ‍mountains ‍were ‍called ‍the ‍Mimbres ‍Mogollon ‍and ‍the ‍people ‍living ‍in ‍the ‍desert ‍were ‍called ‍the ‍Jornada ‍Mogollon.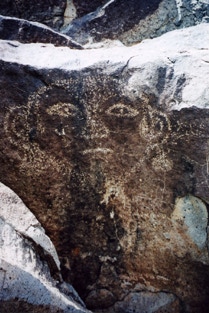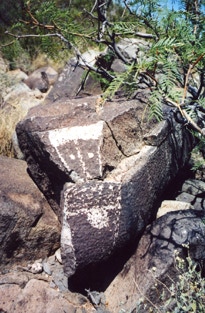 ‍As ‍we ‍continued ‍on ‍our ‍evening ‍walk ‍we ‍encountered ‍many ‍rock ‍carvings.
‍

‍The ‍Native ‍Americans ‍used ‍stone ‍tools ‍to ‍create ‍their ‍images ‍on ‍the ‍rock ‍surfaces. ‍Some ‍of ‍the ‍rock ‍art ‍was ‍created ‍by ‍scratching ‍off ‍the ‍patina, ‍the ‍dark ‍layer ‍of ‍the ‍rock ‍to ‍get ‍to ‍the ‍lighter ‍inner ‍layer, ‍giving ‍the ‍effect ‍that ‍it ‍was ‍white ‍paint ‍that ‍they ‍were ‍using.
‍

‍As ‍you ‍hike ‍along ‍the ‍way, ‍you ‍will ‍also ‍see ‍many ‍rocks ‍that ‍looked ‍as ‍though ‍they ‍had ‍taken ‍a ‍great ‍deal ‍of ‍time ‍to ‍make. ‍The ‍Native ‍Americans ‍would ‍chip ‍away ‍at ‍the ‍patina ‍layer, ‍this ‍was ‍done ‍by ‍using ‍two ‍stones ‍together, ‍like ‍a ‍hammer ‍and ‍chisel ‍to ‍create ‍this ‍effect. ‍With ‍the ‍element ‍of ‍time ‍and ‍the ‍exposure ‍of ‍wind ‍and ‍rain ‍these ‍Petroglyph's ‍become ‍less ‍distinct. ‍So ‍as ‍you ‍walk ‍along ‍the ‍trail, ‍take ‍a ‍look ‍at ‍these ‍and ‍you ‍will ‍be ‍able ‍to ‍tell ‍which ‍rocks ‍are ‍the ‍oldest.
‍

‍The ‍Native ‍Americans ‍used ‍stone ‍tools ‍to ‍create ‍their ‍images ‍on ‍the ‍rock ‍surfaces. ‍Some ‍of ‍the ‍rock ‍art ‍was ‍created ‍by ‍scratching ‍
‍As ‍the ‍evening ‍sun ‍was ‍setting, ‍it ‍was ‍time ‍to ‍hike ‍back ‍to ‍the ‍camper ‍taking ‍pictures ‍along ‍the ‍way. ‍We ‍just ‍could ‍not ‍resist ‍taking ‍this ‍shot ‍of ‍the ‍sun ‍setting ‍to ‍the ‍west ‍as ‍we ‍walked ‍back ‍to ‍our ‍camp ‍site, ‍planning ‍for ‍another ‍day ‍of ‍hiking ‍even ‍further ‍back ‍into ‍the ‍mountains ‍to ‍explore ‍more ‍of ‍the ‍Petroglyph's.
‍

‍The ‍next ‍day ‍arrived, ‍greeting ‍us ‍with ‍another ‍beautiful ‍sunrise, ‍as ‍we ‍began ‍to ‍plan ‍our ‍hike ‍into ‍the ‍mountains. ‍Since ‍you ‍are ‍in ‍the ‍desert, ‍you ‍must ‍be ‍aware ‍that ‍rattlesnakes ‍are ‍common ‍in ‍this ‍area, ‍so ‍as ‍you ‍are ‍hiking ‍on ‍the ‍trails ‍be ‍alert ‍to ‍this ‍and ‍keep ‍pets ‍and ‍children ‍on ‍the ‍trails. ‍
‍

‍Also ‍be ‍aware ‍that ‍snakes ‍like ‍to ‍hide ‍among ‍the ‍rocks, ‍so ‍be ‍cautious ‍when ‍you ‍walk ‍along ‍or ‍around ‍the ‍rocks ‍to ‍see ‍all ‍the ‍Petroglyph's. ‍It ‍is ‍recommended ‍that ‍you ‍wear ‍sturdy ‍shoes ‍or ‍boots ‍and ‍carry ‍water ‍with ‍you. ‍If ‍you ‍will ‍be ‍visiting ‍the ‍area ‍in ‍the ‍summer, ‍then ‍wear ‍a ‍hat, ‍and ‍put ‍on ‍sunscreen ‍since ‍temperatures ‍can ‍rise ‍into ‍the ‍high ‍90's. ‍After ‍breakfast ‍and ‍taking ‍Daisy ‍for ‍her ‍walk ‍we ‍set ‍out ‍for ‍another ‍day ‍of ‍exploring ‍the ‍area.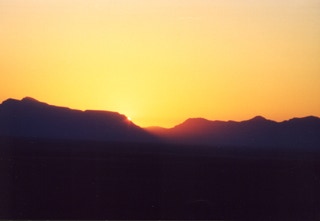 ‍As ‍we ‍continued ‍hiking ‍among ‍the ‍rocks, ‍you ‍will ‍see ‍as ‍we ‍get ‍off ‍the ‍trail ‍that ‍there ‍are ‍many ‍groups ‍of ‍rocks ‍with ‍each ‍one ‍having ‍their ‍own ‍special ‍design.
‍

‍As ‍you ‍examine ‍the ‍rock ‍art ‍you ‍will ‍come ‍across ‍various ‍drawings, ‍some ‍will ‍be ‍tracks ‍of ‍an ‍animal ‍like ‍a ‍turkey ‍or ‍a ‍roadrunner, ‍while ‍others ‍will ‍be ‍of ‍larger ‍animals ‍like ‍the ‍mountain ‍lion ‍or ‍the ‍bear.
‍

‍It ‍was ‍amazing ‍to ‍see ‍as ‍we ‍traversed ‍back ‍and ‍forth, ‍deeper ‍into ‍the ‍desert ‍that ‍hidden ‍back ‍behind ‍large ‍boulders ‍you ‍could ‍still ‍find ‍more ‍rock ‍carvings ‍and ‍still ‍in ‍good ‍shape ‍and ‍left ‍untouched ‍by ‍others ‍which ‍was ‍a ‍good ‍sign ‍to ‍see. ‍It ‍shows ‍that ‍people ‍appreciate ‍the ‍delicate ‍carvings ‍and ‍that ‍they ‍leave ‍them ‍as ‍they ‍found ‍them.
‍

‍We ‍made ‍our ‍way ‍back ‍to ‍the ‍shelter ‍on ‍top ‍of ‍the ‍trail ‍head ‍and ‍sat ‍under ‍the ‍large ‍covered ‍shade ‍drinking ‍water, ‍eating ‍an ‍apple, ‍and ‍enjoying ‍the ‍view. ‍As ‍we ‍looked ‍out ‍to ‍the ‍west ‍to ‍the ‍San ‍Andres ‍Mountains, ‍we ‍could ‍see ‍a ‍small ‍portion ‍of ‍the ‍White ‍Sands ‍National ‍Park ‍accented ‍by ‍the ‍black ‍lava ‍flow ‍to ‍the ‍north. ‍We ‍said ‍to ‍ourselves ‍that ‍in ‍a ‍few ‍more ‍days ‍we ‍will ‍be ‍there, ‍exploring ‍another ‍area ‍of ‍New ‍Mexico. ‍As ‍we ‍were ‍resting ‍from ‍our ‍long ‍walk, ‍more ‍tourists ‍came ‍up ‍to ‍the ‍shelter ‍area ‍and ‍we ‍found ‍out ‍that ‍some ‍came ‍as ‍far ‍away ‍as ‍Germany.
‍

‍It ‍was ‍time ‍to ‍hike ‍back ‍down ‍the ‍trail ‍to ‍the ‍camper ‍to ‍see ‍how ‍Daisy ‍was ‍doing, ‍and ‍to ‍give ‍her ‍a ‍walk. ‍As ‍we ‍passed ‍more ‍Petroglyph's, ‍the ‍one ‍that ‍is ‍probably ‍the ‍most ‍photographed ‍and ‍best ‍known ‍is ‍of ‍the ‍bighorn ‍sheep ‍with ‍the ‍three ‍arrows ‍piercing ‍the ‍body.
‍

‍Now ‍back ‍at ‍the ‍camper, ‍Daisy ‍greeted ‍us ‍with ‍her ‍usual ‍licking ‍and ‍barking ‍and ‍was ‍relieved ‍that ‍we ‍were ‍there ‍so ‍that ‍she ‍could ‍go ‍for ‍another ‍walk ‍and ‍eat ‍her ‍lunch.
‍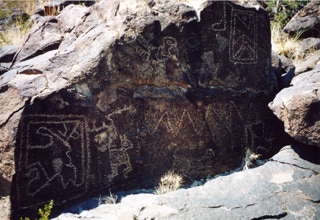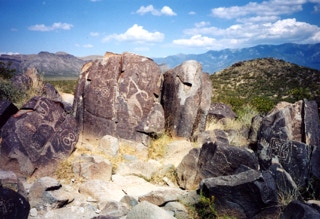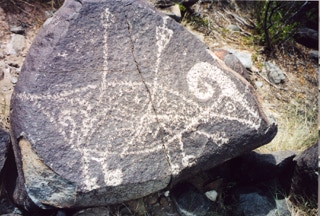 ‍After ‍a ‍busy ‍day ‍of ‍hiking, ‍we ‍had ‍lunch ‍and ‍decided ‍to ‍take ‍a ‍nap, ‍temperatures ‍were ‍approaching ‍90 ‍degrees, ‍so ‍we ‍had ‍all ‍the ‍windows ‍open ‍and ‍the ‍fans ‍on ‍in ‍the ‍camper ‍to ‍keep ‍us ‍as ‍cool ‍as ‍we ‍could ‍get. ‍But, ‍as ‍soon ‍as ‍our ‍heads ‍hit ‍the ‍pillows ‍for ‍a ‍short ‍nap, ‍we ‍looked ‍out ‍at ‍the ‍desert ‍landscape ‍and ‍saw ‍that ‍a ‍funny ‍haze ‍or ‍a ‍white ‍foggy ‍cloud ‍was ‍approaching. ‍Because ‍we ‍spend ‍a ‍lot ‍of ‍time ‍in ‍the ‍desert, ‍this ‍could ‍mean ‍only ‍one ‍thing, ‍a ‍dust ‍storm ‍was ‍approaching. ‍We ‍got ‍up ‍quickly, ‍shut ‍all ‍the ‍windows ‍and ‍roof ‍vents ‍and ‍as ‍soon ‍as ‍we ‍did ‍the ‍dust ‍and ‍wind ‍came ‍in ‍with ‍vengeance. ‍It ‍lasted ‍only ‍for ‍a ‍short ‍time, ‍thankfully, ‍since ‍it ‍was ‍quite ‍warm ‍in ‍the ‍camper ‍with ‍just ‍the ‍portable ‍fans ‍blowing ‍on ‍us ‍to ‍keep ‍us ‍cool.
‍

‍One ‍thing ‍to ‍remember ‍is ‍that ‍when ‍you ‍are ‍in ‍the ‍desert ‍the ‍winds ‍can ‍come ‍up ‍quick ‍without ‍any ‍warning. ‍We ‍have ‍seen ‍so ‍many ‍RVer's ‍leave ‍for ‍the ‍day ‍with ‍their ‍main ‍awning ‍out ‍and ‍not ‍staked ‍down, ‍and ‍they ‍come ‍back ‍late ‍in ‍the ‍day ‍only ‍to ‍find ‍their ‍awning ‍torn ‍from ‍their ‍RV. ‍We ‍always ‍tell ‍them ‍to ‍roll ‍up ‍their ‍awning ‍or ‍stake ‍it ‍down.
‍

‍Well, ‍the ‍wind ‍did ‍stop ‍and ‍we ‍were ‍able ‍to ‍BBQ ‍and ‍have ‍an ‍enjoyable ‍evening, ‍star ‍gazing ‍in ‍the ‍clear ‍air ‍of ‍the ‍desert ‍and
‍listening ‍to ‍the ‍quail ‍calling ‍and ‍the ‍coyotes ‍howling. ‍As ‍we ‍said ‍earlier, ‍the ‍two ‍camping ‍spots ‍are ‍long ‍and ‍wide; ‍enough ‍room ‍for ‍any ‍RV ‍with ‍a ‍car, ‍or ‍boat ‍towed ‍behind.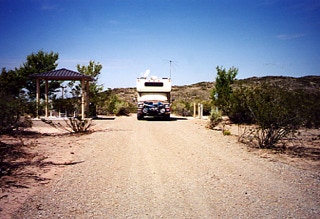 ‍After ‍a ‍good ‍night ‍sleep, ‍we ‍were ‍up ‍and ‍on ‍our ‍way ‍to ‍explore ‍another ‍part ‍of ‍this ‍area. ‍There ‍is ‍a ‍short ‍trail ‍that ‍begins ‍on ‍the ‍east ‍side ‍of ‍the ‍picnic ‍area ‍that ‍will ‍take ‍you ‍to ‍a ‍partially ‍excavated ‍prehistoric ‍village. ‍The ‍Three ‍Rivers ‍village ‍was ‍excavated ‍in ‍1976, ‍and ‍as ‍you ‍walk ‍the ‍trail ‍to ‍the ‍village ‍you ‍will ‍see ‍at ‍the ‍end ‍of ‍the ‍loop ‍the ‍uncovered ‍sites. ‍This ‍is ‍a ‍small ‍area, ‍but ‍worth ‍the ‍short ‍hike ‍to ‍see ‍it.
‍

‍Now ‍for ‍us, ‍it ‍was ‍time ‍to ‍head ‍south ‍to ‍Alamogordo, ‍New ‍Mexico. ‍We ‍left ‍the ‍area ‍and ‍said ‍that ‍we ‍were ‍glad ‍that ‍we ‍were ‍able ‍to ‍have ‍come ‍across ‍such ‍an ‍interesting ‍place ‍with ‍so ‍many ‍Petroglyph's ‍to ‍explore. ‍This ‍is ‍one ‍of ‍the ‍best ‍concentrations ‍of ‍rock ‍art ‍that ‍we ‍have ‍seen ‍in ‍our ‍36 ‍years ‍of ‍traveling ‍in ‍our ‍RV. ‍If ‍you ‍are ‍near ‍State ‍Highway ‍54, ‍be ‍sure ‍to ‍stop ‍by ‍if ‍even ‍for ‍the ‍day, ‍you ‍will ‍not ‍be ‍disappointed!
‍

‍Now ‍as ‍for ‍Daisy, ‍lying ‍in ‍her ‍bed ‍on ‍the ‍front ‍seat ‍between ‍us, ‍she ‍is ‍probably ‍wondering, ‍where ‍are ‍they ‍taking ‍me ‍and ‍what ‍will ‍I ‍see, ‍all ‍I ‍can ‍say ‍is, ‍"Come ‍travel ‍with ‍me, ‍and ‍here ‍is ‍what ‍you ‍will ‍see."
CONTACT INFORMATION:
Caballo Recources Area
Bureau of Land Management
1800 Marquess Street
Las Cruces, New Mexico 88005 
505-525-4300
Other Places To See:
Valley of Fires Recreation Area, an extinct volcanic lava flow: 3 miles west of Carrizozo via U.S. 380, 505- 648-2241.
Ruidoso Downs, host of the richest quarter horse race in the world: 32 miles northeast of Tularosa on State Route 70, 505-378-4431.
International Space Hall of Fame and Space Center in Alamogordo: 18 miles northeast, 800-545-4021.
Elephant Butte Lake State Park in Truth or Consequences: 50 miles south to Las Cruces, then 35 miles north, 505-744-5421.
Silver City, a mining town with many events during the summer: 17 miles southwest. Gila Cliff Dwellings National Monument: 45 miles north of Silver City, 505-536-9461. 
Recreation Vehicle Parks:
Alamogordo, New Mexico
White Sands KOA, 800-562-3992. 
Evergreen RV Park, 505-437-3721.
Ruidoso, New Mexico
Blue Spruce RV Park, 505-257-7993. 
Bonito Hollow RV Park, 505-336-425.
Pine Ridge RV Campground, 505-378-4164. 
Twin Spruce Campground, 505-257-4310.